We all love the adventure that comes with scaling the highest peaks, the relief we experience when we reach a summit, and the majestic sceneries from the top. With so many beautiful mountains to climb, you will never know when to stop. Mountaineering can be an addictive sport, especially for someone who has a fondness for nature and discovering the unknown. Unfortunately, it has turned into a fad and we have started to take our mountains for granted.
In the few mountains that I have climbed (and places I have visited), I have come to realize that human beings can be more careless and selfish than they usually intend to be. You see this when you climb the most accessible mountains; candy wrappers strewn along trails and soiled toilet papers left behind at campsites. People seem to think that there can be no harm done in leaving a single piece of trash in the mountain. Multiply that trash into a thousand and what you get is a dumping site in the wilderness. More and more people are joining the mountaineering community with the false notion that it is simply a sport, pure fun and free of any responsibility. This is where our problem begins.
I am a member of an outdoor group called Isang Backpack Ka Lang (1BP or 1BAG). The name is a parody of the Filipino idiom "
isang bala ka lang
"; in English, it means "a bullet and you're dead" or "it will only take one bullet to kill you." The group name then translates to "it will only take one backpack to scale a mountain or complete a trip" and we are pretty much talking to the mountain or itinerary here, so ride along and personify inanimate objects with me. Of course, it must be said with the same vehemence as the original Filipino idiom!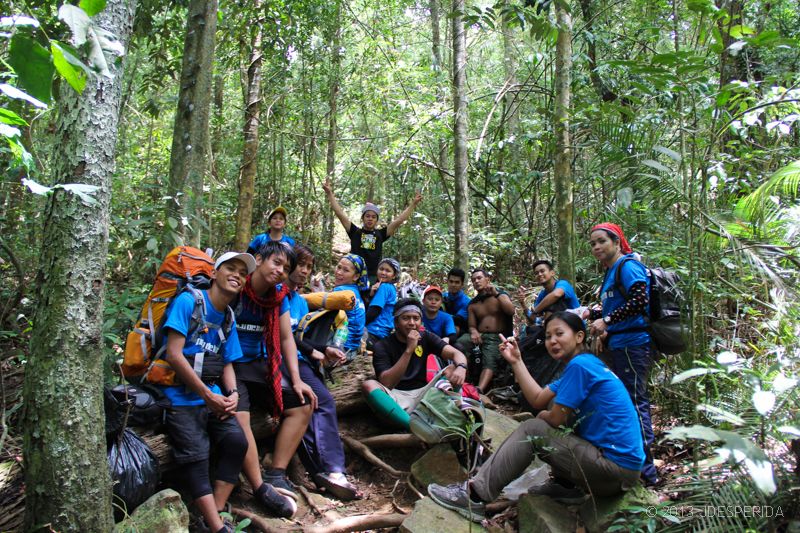 Take five!
Mt. Palay-Palay in Cavite is the 1st mountain the 1BP's founders conquered together. Last month, on May 15 and 16, the group celebrated its 1st anniversary and it was only apt to climb the same mountain again for the sake of remembrance. Mt. Palay-Palay is very popular to newbie hikers because of its proximity to Metro Manila and its trails are very easy to navigate. It is a beautiful mountain from afar, even more so when you reach its summit, which has a spectacular 360-degree view of the nearby mountains and the South China Sea. Its 2 peaks resemble a parrot's beak, hence the name Pico de Loro. The campground, however, is a different story; while it also offers a commanding view of a lush landscape, garbage of all sorts pollute it. Its popularity explains
but
fails to justify its state of defilement.
People say that there is strength in numbers, indeed there is. But in the mountaineering community, I am forced to believe that this supposed advantage has turned into a disadvantage. Instead of being advocates for the environment, many people who call themselves mountaineers are forgoing their social responsibilities. So when it was announced that our next itinerary was not going to be for a simple anniversary climb but also a clean-up drive, I was ecstatic. Alone, you can only do so much; but when you gather enough people, a significant impact can be made.

What I would not give to wake up to this everyday? The view from my tent



The campground and the mountains beyond as seen from the summit
We left Metro Manila at around 8am and arrived in Cavite less than 3 hours later. The climb itself was not difficult; 95% of the trail is covered by trees, so it was not as exhausting despite the summer heat. Climbing on a weekend usually means climbing with a hundred other people, especially in a mountain like Mt. Palay-Palay which is located very near the metro. Because we wanted to find a good camping spot, it did not take long for us to reach the summit. We pitched our tents close to the ridge giving us a perfect view of the peaks. Out came the cook sets and we started preparing for dinner. Every social is special, but I am going to say that on this particular climb, it was more interesting and heartfelt than the rest. Despite swearing that I was not going to drink because I was still suffering from a skin allergy, I got pretty tipsy and spent most of the night snoring outside my tent.
We scaled the summit and the monolith on the 2nd day. Mt. Palay-Palay offers the best view I have seen by far. It is no surprise people return to enjoy the panorama. However, it was very concerning to see what other visitors have done to the monolith. The beautiful pillar is covered with vandalism, why people do this I will never understand no matter how hard I try. It is heartbreaking and infuriating! Why would you even dare to ruin something so beautiful? Scrawling your name on a rock does not immortalize you, it just tells the world how much of a douchebag you are.

The imposing monolith amidst a serene landscape



Tiny people, our own planet can seem as boundless as the universe
The clean up drive was done during the descent. With garbage bags on hand, we picked up every trash we could find. It was also fun to ponder on the variety of rubbish we collected; there were torn wrappers, fast food boxes, freshly emptied cans of sardines, bottles of red bull, etc. Mountaineers have interesting diets.

1BP members with garbage collected from the mountain
Our effort did not leave the mountain garbage-free, but it was heartwarming to see that another group followed our example and started collecting trash as well. We received encouragements from passersby. Seeing my teammates do their best to accomplish the task was uplifting. The experience was priceless and inspiring for all of us. It was to nice to unintentionally remind people that we owe something to our mountains.

This is just me posing with my good ol' friend Mother Nature
Today's lesson:
Love the Earth!
Mood:
working