(This entry is the third and final part of this series, follow these links to read the first and second parts:
Hoyop-Hoyopan Cave & Pili Nut Hills in Camalig, Albay
and
Ligñon Hill, Daraga Church, Cagsawa Ruins & Mayon Volcano
.)
Aside from habitually incorporating coconut milk or
gata
in as many dishes as possible, did you know that we also love to eat crushed chili pepper or
siling labuyo
for breakfast? Just kidding, but we do have a penchant for spicy food. Being a Bicolano myself, I have tried every popular traditional delicacy, including Bicol express and laing/pinangat. This time, I wanted to try something different yet still familiar. I have read several articles praising a restaurant called
1st Colonial Grill
in
Legazpi
, where they serve chili flavored ice cream.
My sister and I ordered tinapa rice and pork sisig to share. I was surprised when the rice came out and it was served in a
kawali
-- it was good enough for 4 persons! And when I saw that it was topped with slices of green mangoes, salted eggs, tomatoes and tinapa flakes, I think I levitated. All my favorite flavors in one pan! The taste? I can't say it was magical but it was good enough to make me want to go back.
The sizzling pork sisig was not as crispy as I had expected but the
siling labuyo
was a nice addition to the recipe. It was not very spicy-- well, not until I started chewing on the chopped chili. It was very, very hot.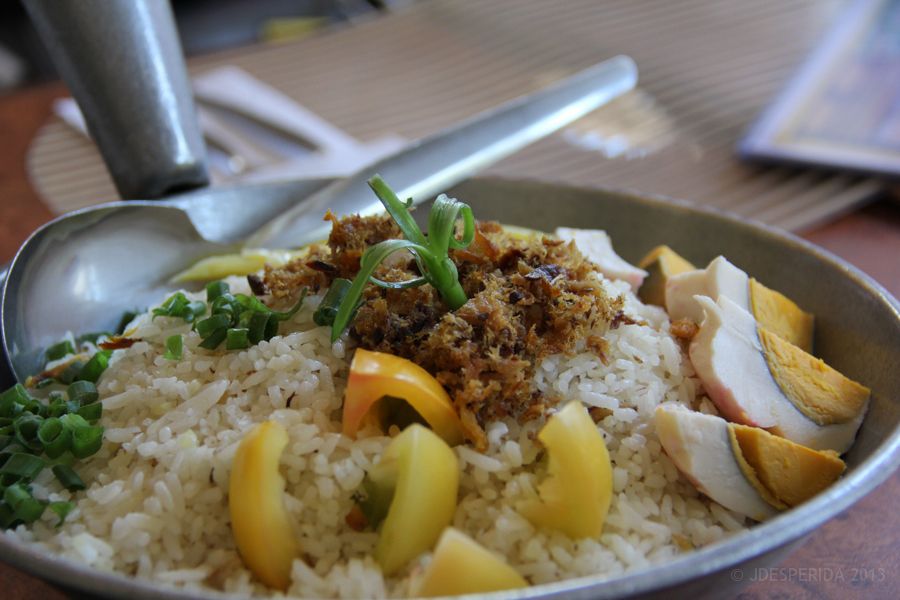 Tinapa Rice and Spicy Pork Sisig

For dessert, we ordered sili ice cream along with 3 other flavors: malunggay, pili nut and tinutong. The malunggay is my least favorite because it tastes very much like...
malunggay
. I like malunggay, especially with
gata
, but not in my dessert. The pili ice cream was a better surprise; the flavor is very similar to almonds.
Tinutong
translates to
burnt
in English; the ice cream is made of burnt rice and it is unusually delicious for something burnt.
Allow me to compare the sili ice cream's flavor to Gelatissimo's chocolate chili gelato. Some people find Gelatissimo's spicy ice cream good, even poetic-- chocolate is an aphrodisiac, chili is hot and seductive, gelato is an Italian ice cream, so you can't go wrong, right? My experience: sweet on the tongue, spicy in the throat, and
painful
in the stomach. The sili ice cream, however, is more delicate. It has just the right spicy kick. The fact that its base is vanilla probably adds to the subtlety. The spicy flavor doesn't linger long, so your taste buds get to recover faster, encouraging you to eat another spoonful of this piquant frozen treat.


Left to right: malunggay, pili nut, tinutong, sili
Chris, whom I met the day before had offered to tour me around. I took a van from the Legazpi Satellite Terminal and met up with him in
Bacacay
at around 1.30pm. I had only initially planned to visit the black sand beach but he also suggested a trip to
Misibis Bay
; it is located in the island of
Cagraray
and a popular private getaway for the upper class. I was a little worried about the time as I had to catch the last trips to Sorsogon and Gubat but my new friend assured me that I would be able to make it back on time. It was a pleasant motorcycle ride until we got a flat tire, we were already at the bridge that connects Cagraray to the main island, only 30 minutes away! Chris had to go back to Bacacay to get the tire fixed via another rented motorcycle. I waited by the bridge for more than an hour. We did get the motorcycle running again but not until 4pm.

The Cagraray Eco Park sits atop a hill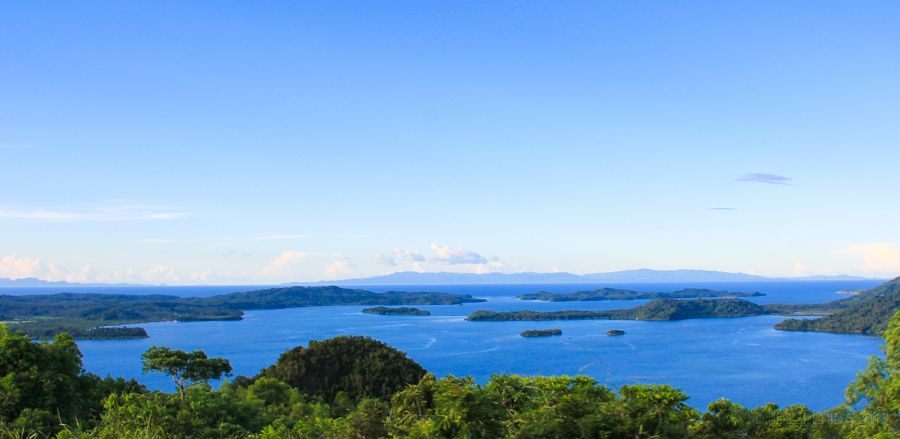 Cluster of islands
We did not go into a private resort but were still able to enjoy the impressive natural scenery, which the island offers for free. But since it was already getting dark, I did not get to take that many photos.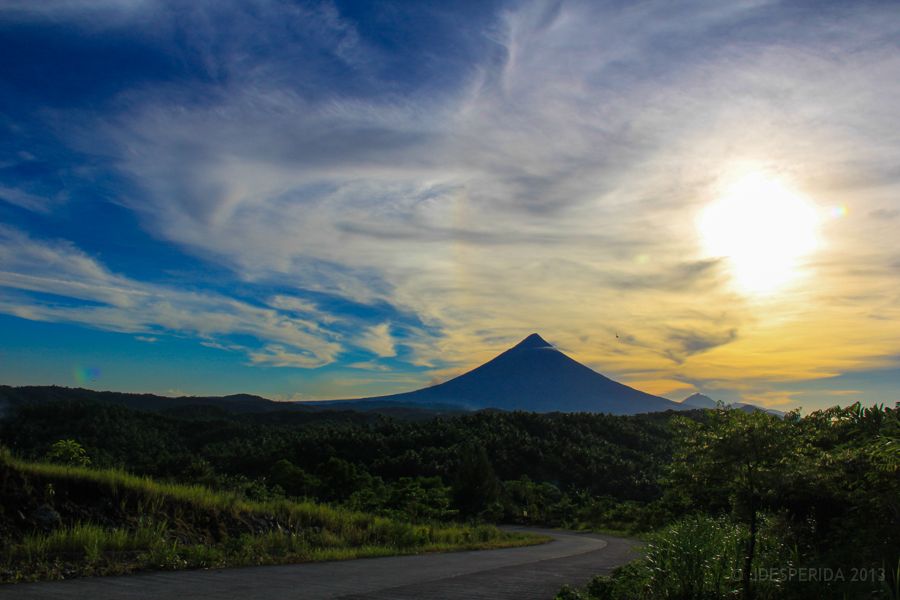 A stunning silhouette of the Mayon Volcano at sundown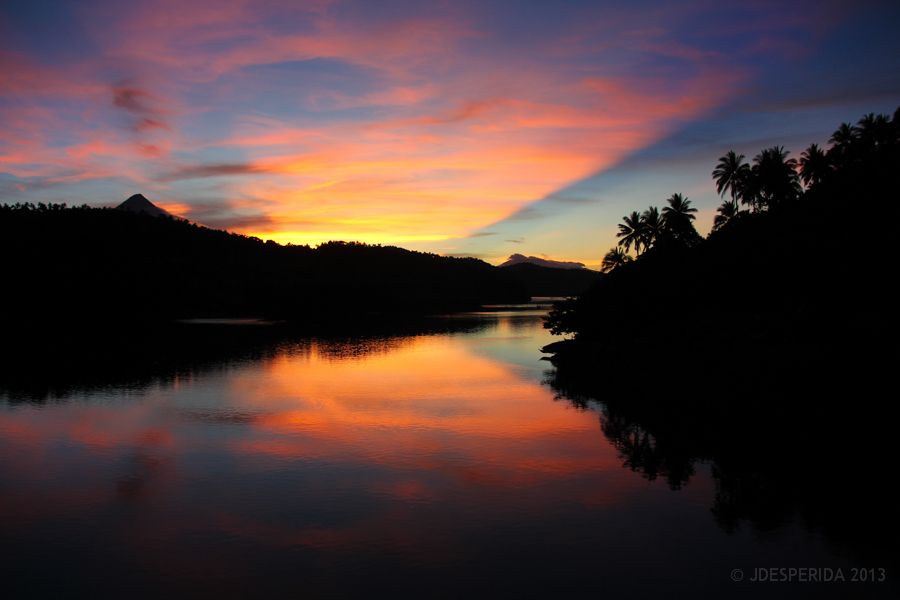 A beautiful sight to end the day
It was already past 6pm when we got back to Bacacay. I was a little disappointed that I did not get to see the beach in daylight. We still went to a public resort but the stars and moon were barely lit. It was almost pitch black save for some of the cottage lights along the shore. I arrived in Albay at around 8pm and did not get to leave for Sorsogon until the next day.
This trip is one of the best travels I've had in a while. It has taught me important lessons and reminded me of some of life's realities. Had I not met Chris, I would not have been able to visit Misibis Bay during that weekend. We also had some very interesting conversations while on the motorcycle. It's funny how things can dawn on you in the most unlikely situations. But hopping on a stranger's motorcycle is one of the most dangerous things I have done and this is something I would never suggest to anyone.
YOLO
and
carpe diem
do not justify the stupid things we decide to do, and they will certainly not be able to help you once you get into trouble for that decision. Should you still take the risk, you must remember to be responsible. The first time I met Chris, I immediately studied him and made use of my instinct. I constantly communicated with my sister and sent her every important information, I also created the circumstance to introduce them before I went to Bacacay. I was lucky but not everyone could have the same luck.
Today's lesson:
Meeting new people is fun but it still requires caution!
Mood:
amused