(Here is a seemingly unrelated introduction!) Do you remember how it felt when it dawned on you that living can turn into a mere series of ineffectual efforts to make something happen? That holding on to something pleasant can become an ugly struggle? After deciding that I did not want to go through another disappointment, I did not think twice about drafting that resignation letter. Well, as liberating as it was, it came with a sprinkle of shame here and a pinch of guilt there-- but sometimes, what you do
not
want matters as much as what you want. Well, enough with the drama, what I'm trying to say is everyone deserves a break from this exhausting cycle of triumphs and misfortunes. (With the misfortunes becoming more dreadfully real as you add more years to your age!) I decided to take another breather by going home to
Bicol
, but this time I took a little detour by spending a week in
Legazpi
.
I grew up in Bicol, a region located at the south of Luzon. It is a coastal region in a tropical country, blessed with some of the most beautiful natural attractions. It is home to many pristine beaches. Our house is 10 minutes away from the beach; if you played with snow balls, me and my siblings know how to make the best sand balls (the perfectly round compact ones, which hurt the most when thrown!)-- I guess this is why I don't really go gaga over beaches, and this is also why instead of visiting the famous Calaguas beach, I decided to do something else.
At first, I was torn between Samar and Legazpi, but I eventually decided on touring the latter just because it was embarrassing that I hardly knew the region I spent half of my life in. Also, because my sister has an apartment in
Albay
, the itinerary would cost less.
I arrived in Legazpi 15 minutes before 4am. My sister was also arriving from her practicum in Manila then, so I waited for more than an hour at the Legazpi Satellite Terminal; the place was barely lit and almost deserted except for another lady and a security guard. I lied down on a bench and studied the stars outside; the air was a little chilly, and it made me feel more foreign than usual. I finally received a message from my sister with directions to her apartment.
After a 3-hour nap, my sister and I went to a nearby
carinderia
to have breakfast, this made me feel a little nostalgic-- I had not eaten at a carinderia in a long time, where you can stuff yourself with the most savory viands for less than a dollar.
I was spending 2 days and 1 night in Legazpi. Save for the Bikolano culture, I was clueless. I understand Legazpi's dialect but do not feel comfortable speaking it. In point of fact, I am not your best Bikol-speaking Bicolano-- embarrassing but true, wait till you hear my friends make fun of me when I start fumbling for a local word's definition. I like to put it this way: my English is just fine, but I struggle with Shakesperean English-- my friends converse in Bikol in a very arcane manner sometimes. Also, our dialect is not pure Bikol, it is peppered with Bisaya; it is sometimes called
Bisakol
. Anyway, I told the driver in my most eloquent Bikol to drop me off at
Camalig
. First stop:
Hoyop-Hoyopan Cave
.
I took a tricycle from the town proper, which was quite costly for a
solo traveler
. We went into a village called Cotmon. The entrance fee to the cave was also horrendously expensive. The minimum was Php300.00 (~US$7.00) but since I was already there, I continued with the tour.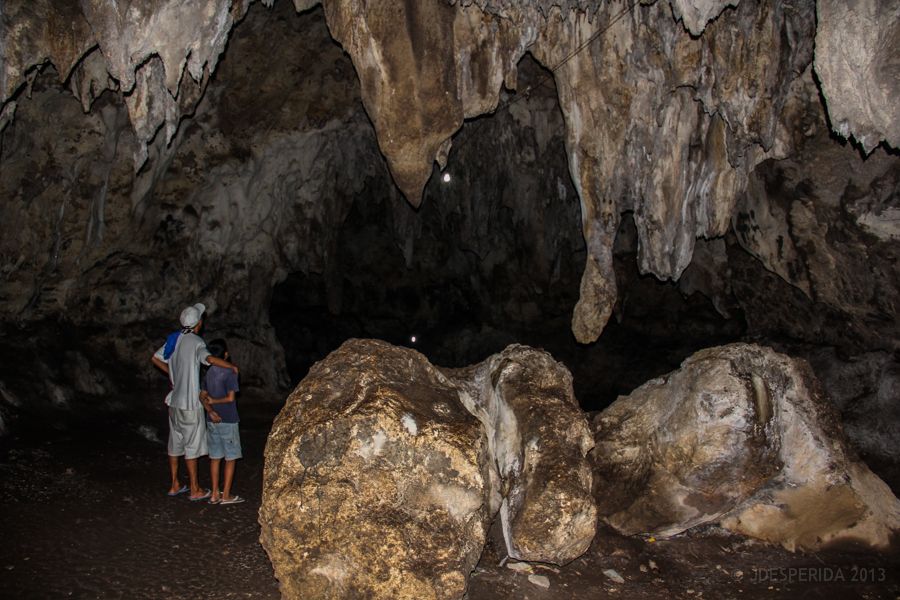 Inside Hoyop-Hoyopan Cave
Hoyop
is a local term which means
blow
. Inside the cave, the air is cool, and it was a welcome respite from the harsh summer heat; whenever the wind blows, a wonderful breeze travels through the cave. According to the guide, it was a guerrilla camp during the Japanese occupation and was also used as a hideaway during the Martial Law period. The usual stalagmites and stalactites filled the cave, beautiful crystals formed curious shapes on the surrounding walls, fruit and insect bats hung from the crevices in the ceilings, clumps of corals can be seen and even fossils of ammonites and humans.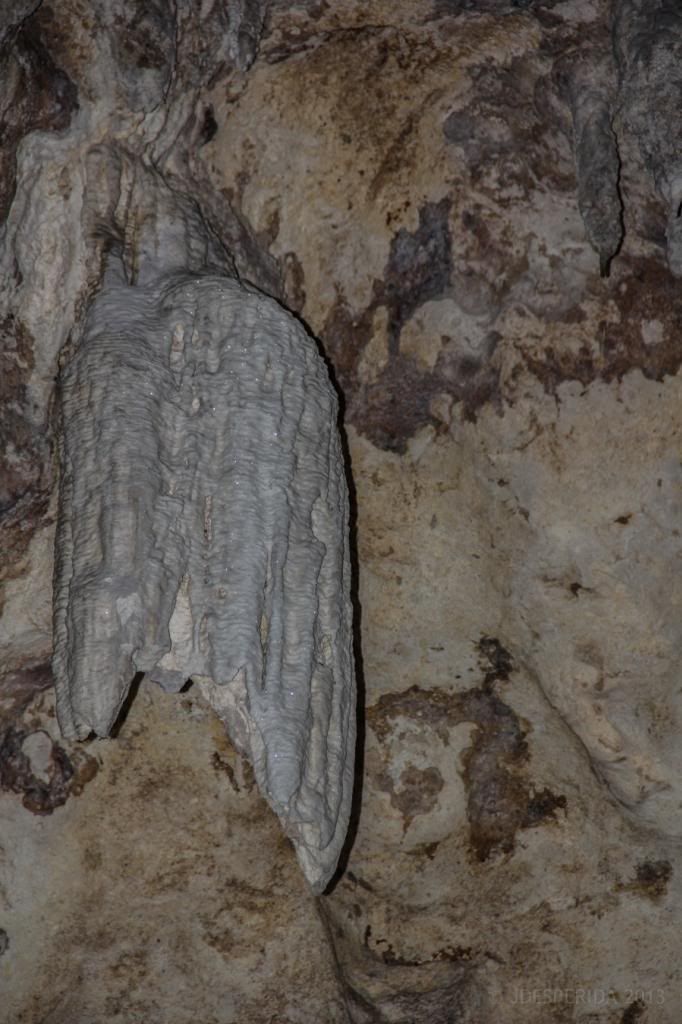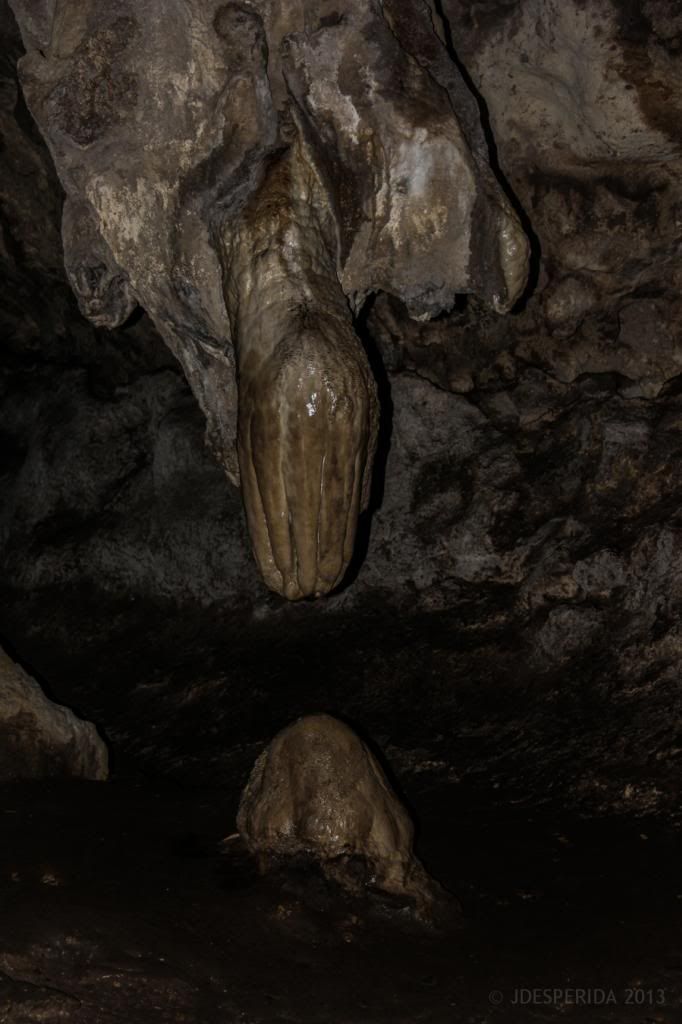 Crystals in all shapes and sizes, left to right: Angel's Wing and Wishing Hand
The tour took less than 20 minutes and I can't say I was ecstatic about it. With light bulbs hanging from its ceilings, Hoyop-Hoyopyan Cave is too touristy for my taste. A narrow concrete pathway winds through the first half of the tour, so it is quite safe even for children. The guide was also very knowledgeable about its history, it is a good educational experience. Overall, this cave is perfect for families and individuals who are looking for a less traditional destination, but I do not recommend it to outdoor enthusiasts and/or adventure-seekers.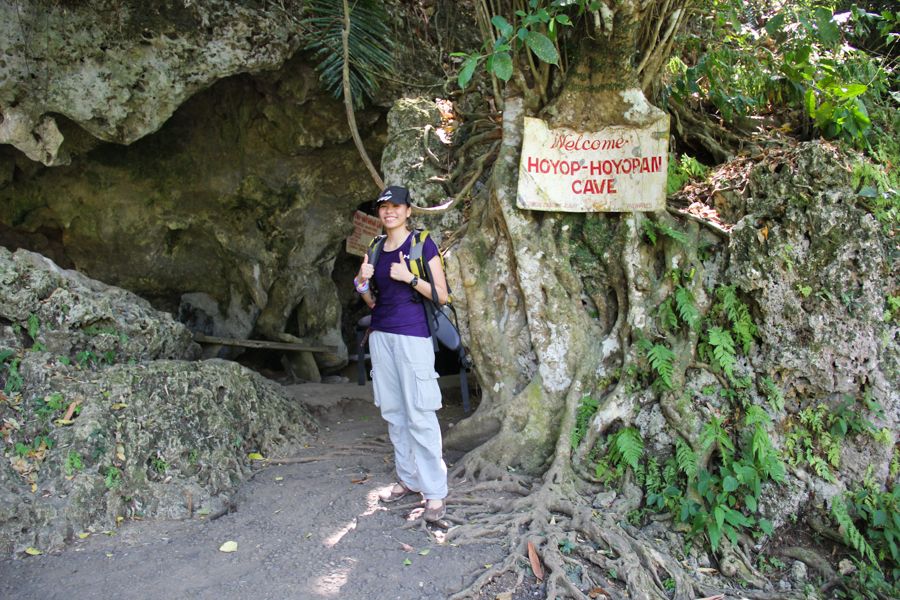 Posing like the tourist that I am
My second destination was unplanned. I already gave up on visiting the
Pili Nut Hills
several days prior. I was disappointed to find very little information about it when I scoured the internet. It is located too far from the city on Google Maps. Only 2 articles have been written about it, and they were not very helpful except for some wonderful pictures that made me vow to see them in person someday. The locals have no idea what I was talking about-- yes, they have lots of Pili trees but no Pili hills! Luckily, the guide at Hoyop-Hoyopan Cave has heard about it.
From Cotmon, we went to another village called Caguiba via a very rocky dirt road, the drive took about 30 minutes. We also asked several locals for directions but they could only point us to a grotto, which was the landmark given to us by the guide. A hike from the road to the grotto, which sits atop a hill, took about 15 minutes. A bucket of sweat later, I found myself standing beside a giant cross on a hill overlooking a beautiful landscape. Except for the tricycle driver and his son, I had it all to myself.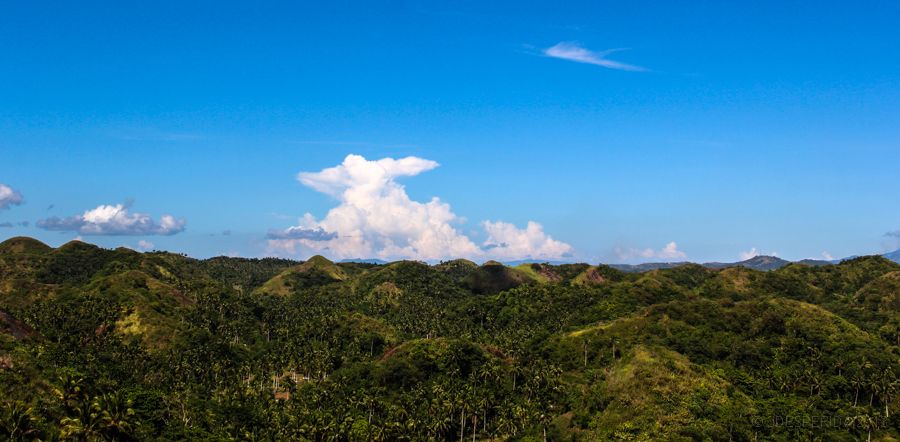 Bicol's best-kept secret: Pili Nut Hills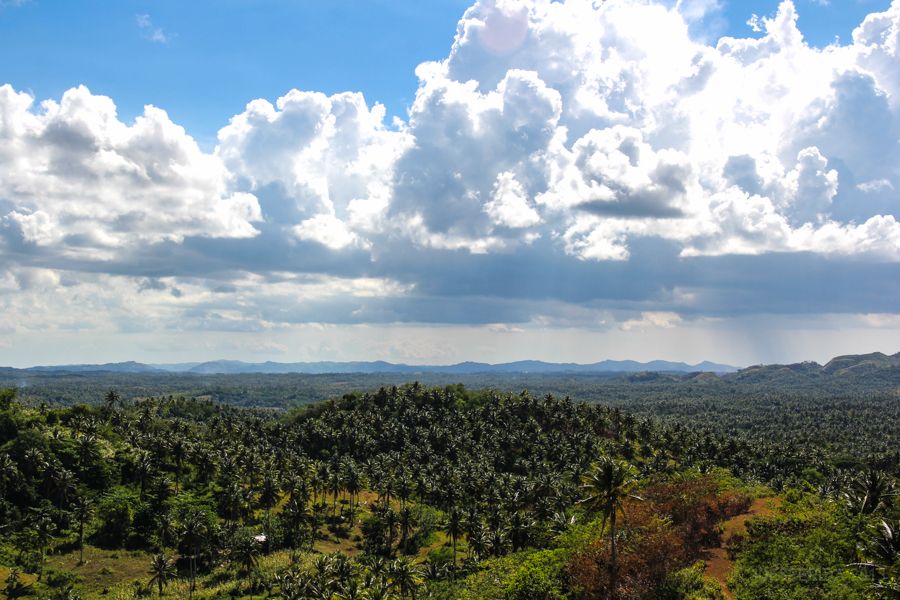 Opposite the Pili Nut Hills

There is no fee but you may donate any amount to the caretaker. I believe there are other spots that could offer a better view. A call to the local tourism office would also be helpful, except I have no idea how to reach them. I just read somewhere that they are willing to assist tourists in visiting the hills.
I spent more than half an hour looking at the hills, the horizon, and peering at what I could make out beyond it. And I thought to myself,
this is beautiful
.
Today's lesson
: Keep looking.
This entry is the first of three parts. I went to too many places in Legazpi. :)
Mood:
dorky