It was May 2011, I was finishing the first part of my training in the United States and was itching to get away. My sister had been inviting me to visit her, and my niece's 1st birthday was also approaching. It would be the perfect escape after 5 stressful months, and the perfect prelude to a whole new level of exasperation. I decided it was time; before the month ended, I had a flight booked to Colorado.
Denver is less than 3 hours from Indianapolis, it was not going to be a very long flight but it was going to be my first time flying solo. The idea of traveling by myself in a foreign country was enough to excite me like a 3-year-old having her first taste of strawberry ice cream. At 5.30am (EST) on June 10th, I hopped on a plane bound for Denver while chewing on a fistful of sour gummi worms.
Spencer, my sister's husband, picked me up at Denver International Airport. Some 30 minutes after arriving, I cradled happiness in my arms when I met my first ever niece for the first time. Yana's face was round as an orange, her nose cute as a pumpkin, and her big bewildered eyes told me just what I needed to know-- that this trip was exactly what needed to happen in my life.
I don't think I ever really took anything seriously out of traveling until that one moment in Colorado, when I found myself standing in front of a huge hill in Rocky Mountain National Park. My eyes followed a raptor gliding in the sky and three elks grazing at the foot of that hill. It was a sight so simple and serene, and it could have been nothing else but a hill, yet it was then when I felt one of the strongest emotional tugs in my life.


This and more, I thought to myself
I don't remember how long the drive was, but I do remember feeling sick from it. Piece of advice, do not mess with altitude-- it is not a good idea to drive to 12,000 feet above sea level after a recent 3-hour flight. But then, if it is for something this beautiful, perhaps you might reconsider.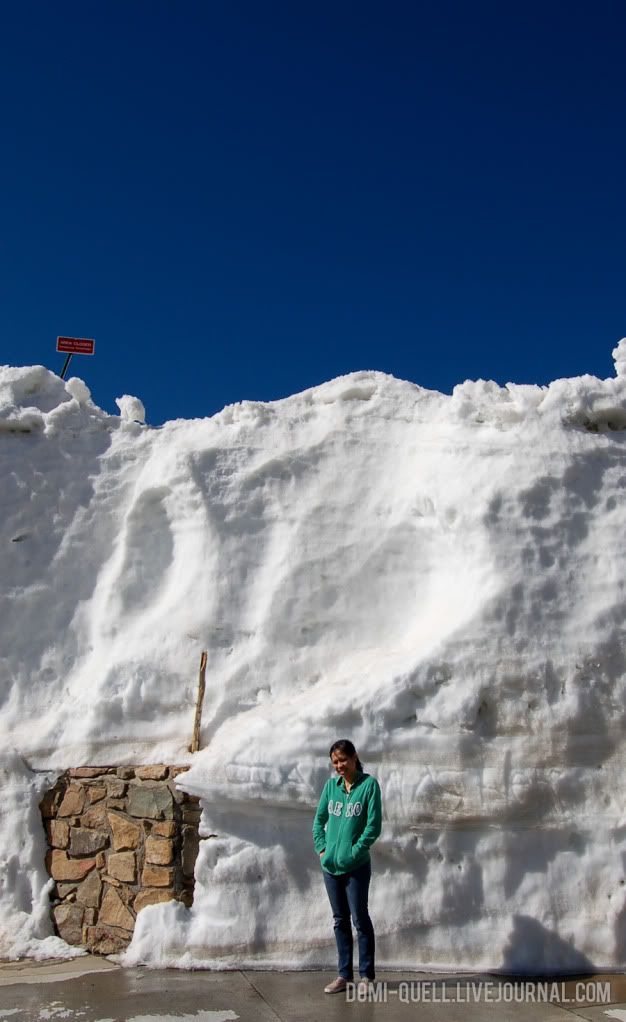 It was summer yet almost everything was white, and the ice refused to melt despite the sun's warm rays. Huge walls of ice towered high above us, it was an overwhelming sight from atop the world. I could've spent the whole afternoon watching the mountains' peaks trying to reach out to the clouds above them.
Since Colorado is a land-locked state and I was told that we were going to a beach, I didn't expect it to be that great. But lo and behold, Aurora Reservoir is one of the most picturesque beach parks and places I've ever been to.
It is one of those places that makes it easy to revisit good memories; a place where everyone can naturally become levelheaded, relaxed, and contented.
Aurora Reservoir is a man-made facility with over 800 acres of water surface. Children covered in sunscreen waded in the water, and red and blue coolers were scattered everywhere; while Indiana was wet, it was truly summer in Colorado.

For something more exciting than simply lying down to get a tan, Water World in Denver is another great respite from the summer heat. I don't exactly remember how many we took, but the park offers a bunch of thrilling rides. There are also Family Rides, where even toddlers are allowed. When we took the Voyage to the Center of the Earth, Yana ended up peeing in her little swimsuit. With my screaming and laughing in that dark tunnel, I'm sure I scared her more than the phony roaring dinosaurs did.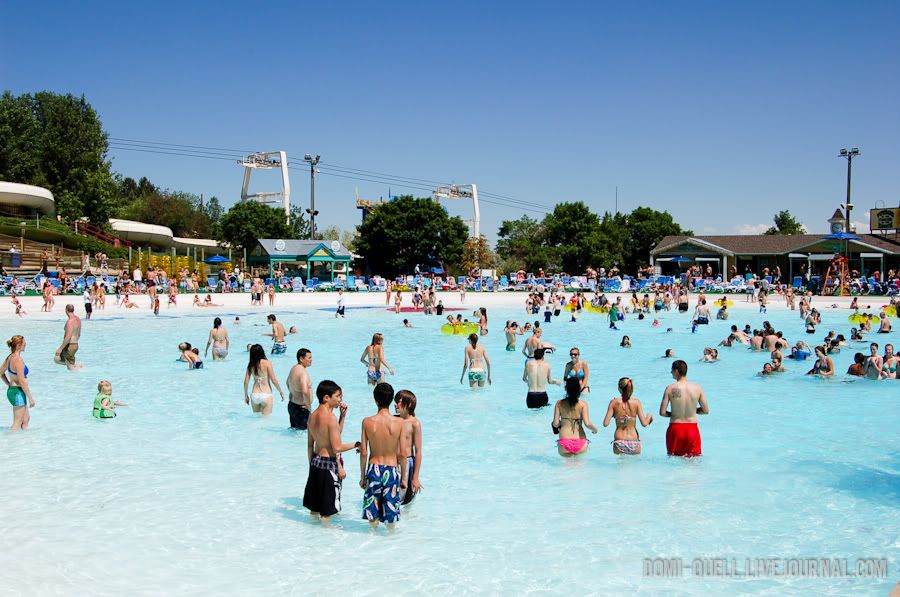 Today's lesson:
Go see places.
Mood:
nostalgic