I decided to go home via the railways for a family event on the 28th. I had never taken the train outside the metropolis before so I was very excited about this trip. The Philippine National Railways' (PNR) final stop in Bicol is Naga City, which is about 4 hours from my hometown. I could have saved myself the time and energy had I traveled by bus or plane, but my audacious self got the better of me.
PNR has two kinds of train services to and fro Bicol, these are the Mayon Limited and Bicol Express. The Mayon Limited offers
De Luxe
with an
Executive Lounge
and
Ordinary
(non-air conditioned) accommodations. But for a 10-hour trip, people who value comfort in traveling may opt for Bicol Express'
reclining seats
or
sleeper coaches
.
Reservations are supposed to be made 2 weeks before departure, and you should pay and claim tickets 2 days prior to the reserved date. But, naturally, they can't afford to turn away paying customers during the lean season. I called on the 15th to make a reservation for a family sleeper coach (P665.00 or ~US$15.58) on the 26th. A few days after I made that phone call, I found out that I could go home earlier than I thought. So I made a visit to the Tutuban station on the 20th to pay and have my reservation moved to the 23rd. As long as there are seats and bunks available, they will most likely accommodate you. But don't risk it if you can make your travel plans early, early is always better. Just when I thought they did not have enough passengers, the train was almost full when we made a stop in Lucena.
I filled my backpack with a week's worth of clothes and left Taguig at around 3pm. I took a jeepney via the C5 road to MRT's Guadalupe station, then transferred to LRT-1 in Taft. From LRT-1's U.N. Avenue Station, I took a jeepney to Divisoria. I got off in front of the Binondo Church and took a pedicab to PNR in Tutuban. Now, I could have boarded PNR in Pasay, but I forgot to ask whether I was allowed to do that and I just thought it would be more interesting en route Divisoria.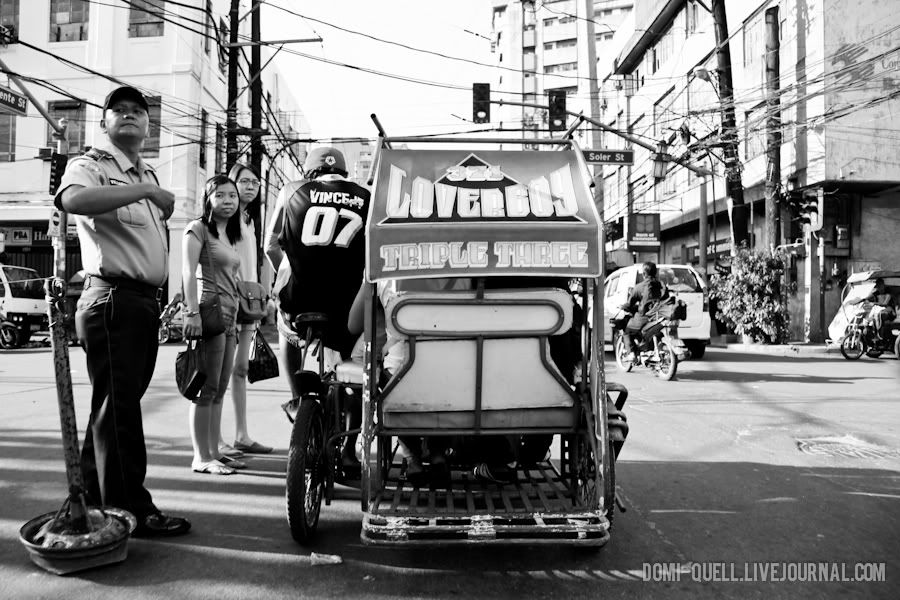 Self-proclaimed lover boy on the loose
It is never safe to take out your camera in Tondo and Binondo (especially if you are female and alone), but the street scenes can be very tempting. So while the pedicab skidded through the metro's traffic, I held onto my camera and took some snapshots.

Filipino and Chinese children playing in the streets
From Taguig all the way to Binondo, it only cost me P50.00 (~US$1.17). There might be a more efficient and cheaper option than the pedicab from Binondo Church, but I am not very familiar with the area. The first Manong I talked to charged P80.00 (~US$1.87), then I found another Manong just 20 feet away who only asked for P50.00, I haggled a bit more and we finally agreed on P40.00 (93¢). I could have hammered out an even lower price but we all have to live and let live.
I arrived in PNR a few minutes past 5pm, my train was not scheduled to leave until 6.30pm. I went to the canteen for some ensaimada and juice to tame my growling tummy. After snacking, I went to the information desk to ask whether taking pictures was allowed. I wanted to make sure since, a couple of months ago, when my friends and I took the old train to Buendia,
big cameras
(DSLRs) were not allowed to be used in the premises. When we asked why, they only said the photographers were selling the pictures-- why that is a bad thing, I don't understand. So when we started boarding at 6pm, I used my phone to take a picture of the train which, by the way, is also prohibited. You may not take a picture of the train at all. You can, however, take pictures inside it.
My bunk was in the first car. Luckily, I was given a lower bunk. When I got to the cabin, two of the staff were lounging in it. They smiled sheepishly and one of them left. Kuya, the one who stayed, started a conversation with me, which was fine because I wanted to learn more about the train's amenities anyway. Each car contains separate cabins, I did not exactly count but it could be between 8 and 10, and each cabin has 2 upper and 2 lower bunks. The bunks are fashioned with curtains that can be drawn out to give yourself some privacy, and a personal lamp that is very suitable for reading. It is very spacious and the beds have good cushioning. The only thing I didn't like about my little space was the upholstery. I do not like velvet in public spaces; it did not look very clean, even the curtains looked a little grimy. If you are a germaphobe, this may not be a good traveling option, but we all have to accept the consequences of riding a public vehicle. So that night, I had to take out two of of my clean shirts to spread over the bed. Had I known that clean blankets and pillows were not provided, I would have at least brought a sarong, lesson learned.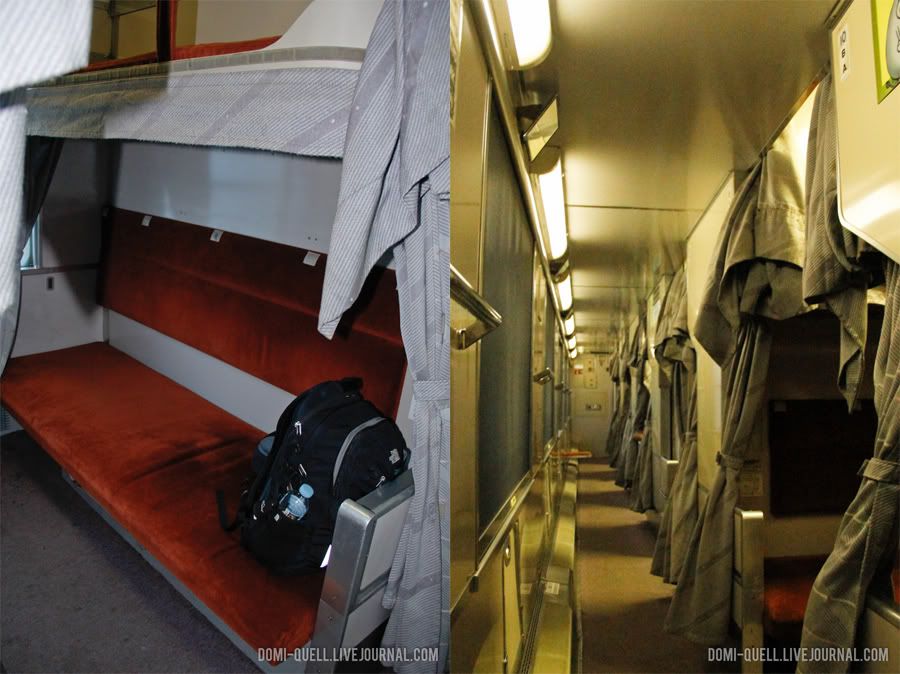 A cabin takes about two-thirds of the train's width. The remaining third is the hallway. The walls have large opaque windows protected by steel screens, which make it impossible to enjoy the scenery. But in most cases, they keep a passenger's skull in one piece. Informal settlers have plagued the railways for a long time. They like to throw things at passing trains-- rocks, urine, even feces, probably anything they can get their hands on. :/ I do not remember how many times I got startled by a loud thud that night. So if you do not like crap on your cheek, you might want to reconsider taking the non-air conditioned service.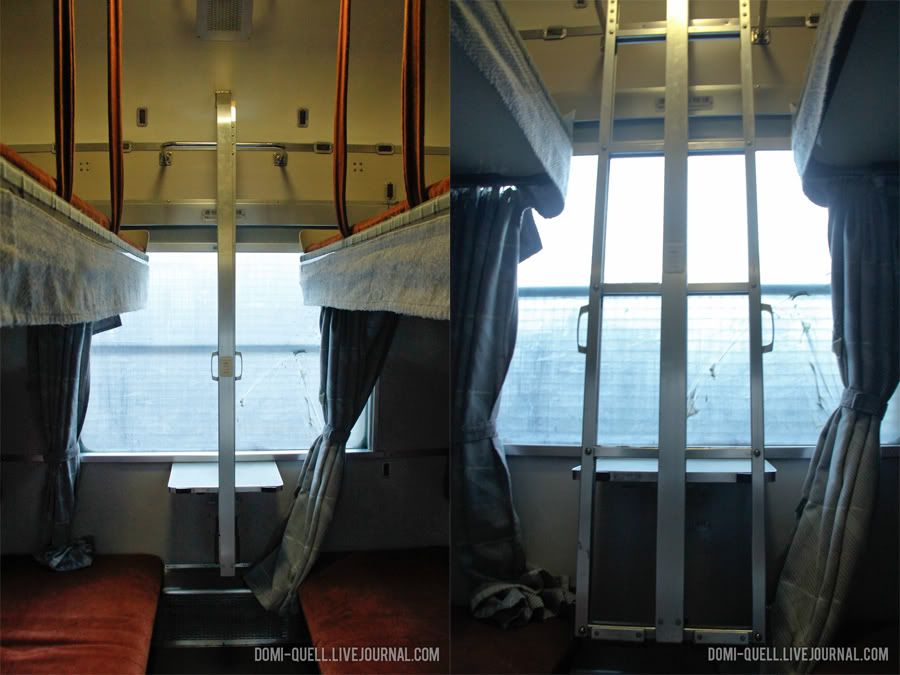 Since only curtains separate passengers, I was a little concerned about the security. But I was assured that no cases of stealing had ever been reported and two resident policemen rove at night. I spent half of the night talking to Kuya and the other half trying to get comfortable. I tried reading but the lights kept flickering, I later learned that they were having problems with the generator set, which meant the A/C was also malfunctioning though I barely felt the fluctuation. The temperature seemed just right but I did hear my neighbor cursing the cold from behind his curtains. I might not be the right person to ask because I happen to like cold. So, just in case, you might want to bring a coat or a jacket.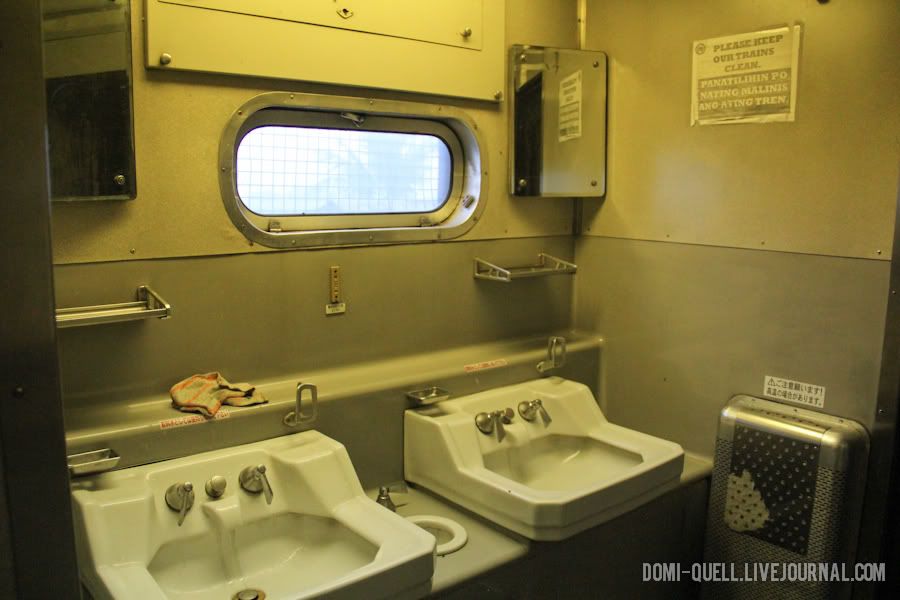 Each car has a wash area and a restroom. Surprisingly, they have hot water! But trust me when I say it is almost impossible to wash your face in a moving train. The restroom looked old but clean enough and, as expected, they did not have any toilet paper. Just a friendly advice, if you decide to take a trip around the Philippines, always make sure you have toilet paper at hand. It's hard enough to find a clean public restroom here, much more a public restroom with toilet paper.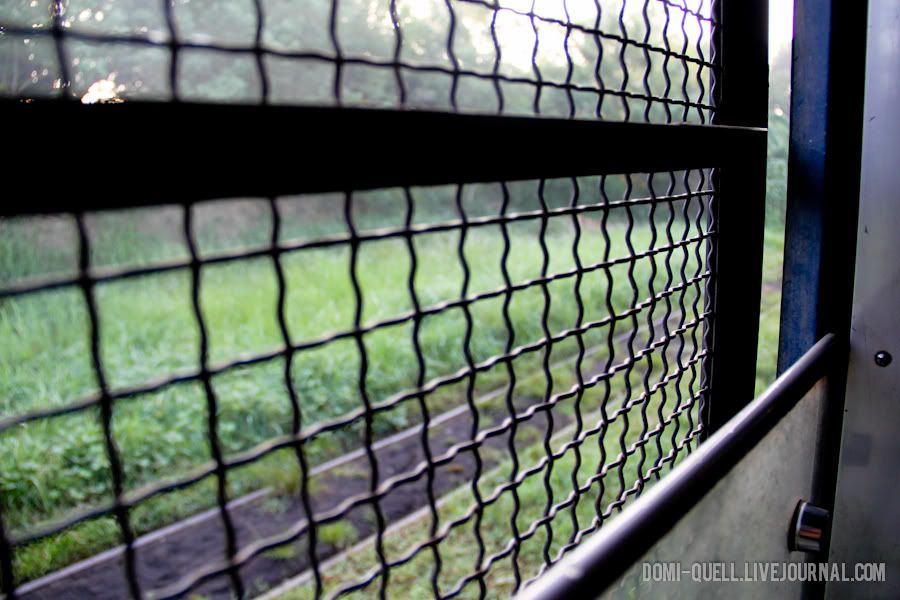 The open window in the control room
Since I had voiced out my sentiment to Kuya regarding the opaque windows, he promised to take me to the end of the car the next morning so I could enjoy a view of the countryside. Unfortunately, it was not what I expected, you know like in European movies where trains have viewing decks and you can watch the trees and mountains run past you? Well, he took me to the cramped control room instead, where the glass window can be pulled down. But he also allowed me to stand beside an open door so I could take some pictures.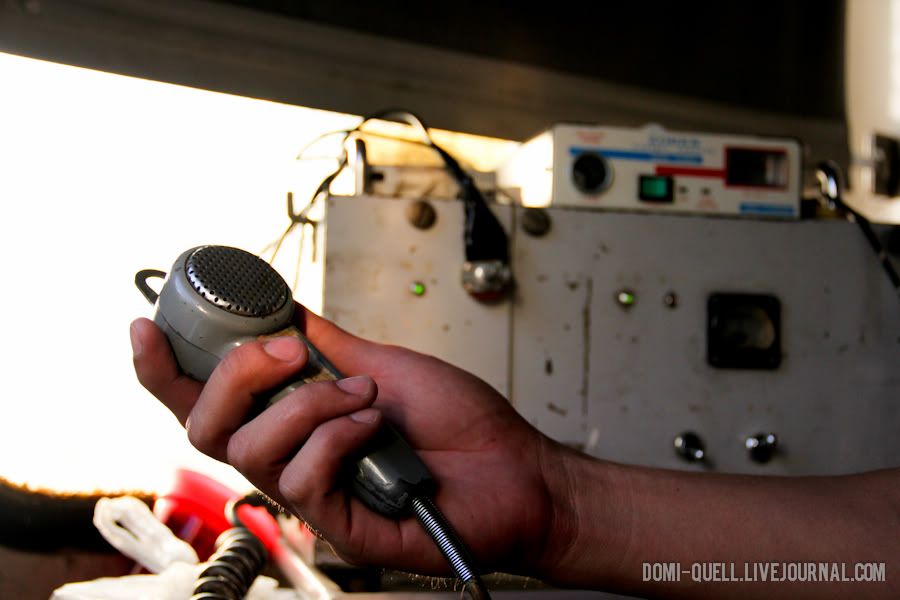 Announcements are made in the control room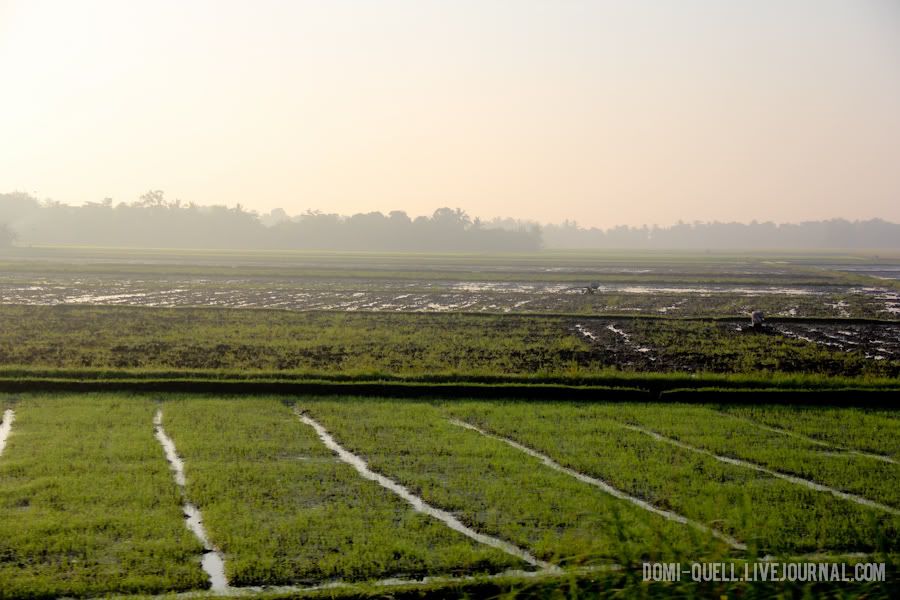 Rice fields in Bicol
We arrived in Naga City a few minutes past 6am. Trains share tracks, and they usually stop to give way to another. So depending on how often your train stops, the trip will take 10-12 hours. From Naga, I still had a long way to go. I took a tricycle to the bus terminal. The tricycle driver tried to hustle me by asking for P20.00 but I only gave him P10.00 (~23¢). The (air conditioned) bus fare from Naga to Legazpi is P110.00 (~US$2.58). And from Legazpi, I took a van to Sorsogon for P85.00 (~US$1.99), then transferred to a jeepney bound for Gubat for P15.00 (~35¢). When I arrived, Ashley stared at me for about 3 seconds before running towards me barking like crazy.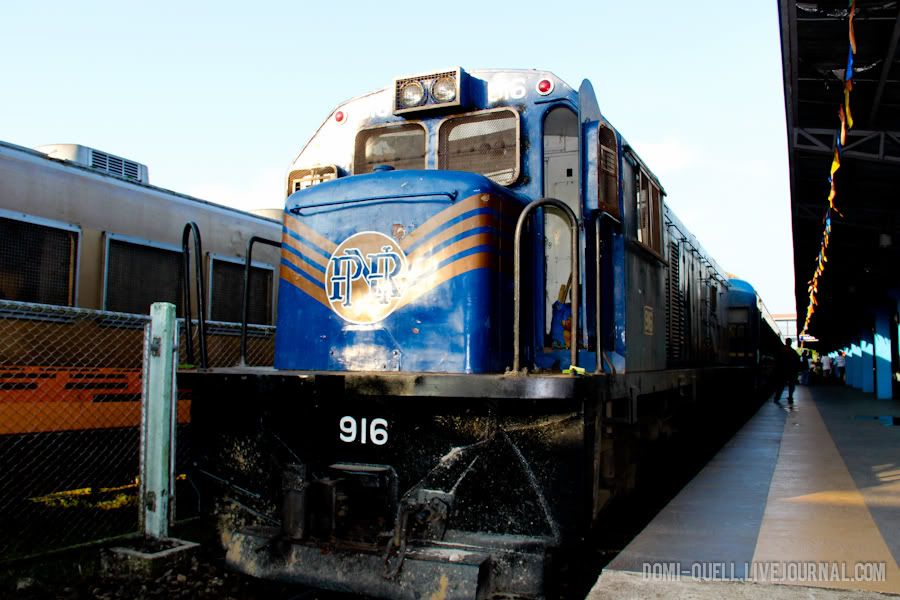 Bicol Express parked in Naga
Click
here
for schedules and fares. Visit the
PNR website
for more information.
Today's lesson:
This one is more practical, bring a sarong when traveling.
Mood:
amused