I thought maybe I should take a break from reviewing (don't even ask) and write about our last two days in Mindanao. Before you read the rest of the entry, I suggest you go through the first two of this series:
Cagayan de Oro & Bukidnon
and
Iligan City
.
The day after our brief affair with Tinago Falls, we woke up at almost 6am to get ready for our trip to Camiguin Island. The island is off the coast of Northern Mindanao. It is made up of 5 municipalities and also happens to be the country's 2nd smallest island after Batanes. We had planned an overnight stay but had not made any reservations for board, lodging, and transportation. From Cagayan de Oro, we took an airconditioned bus to the municipality of Balingoan, which took 2 hours. Balingoan is the main port for ferries going to Camiguin, and it also takes about 2 hours to reach the island.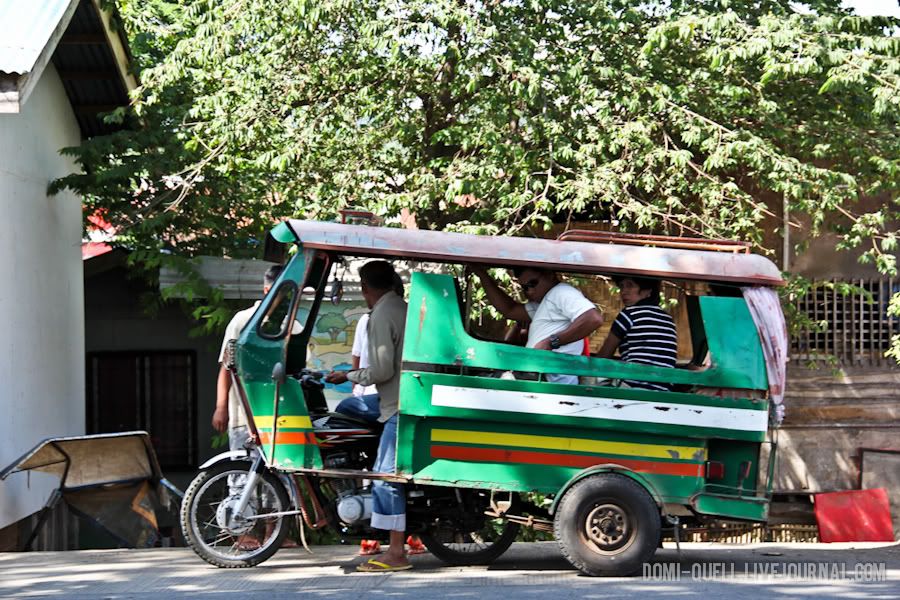 When we got off the barge, we saw a banner that read "Tourist Information Center" but, to our disappointment, nobody was there. Then, a group of locals started huddling around us, offering two possible options to tour the island. It was going to be either via a multi-cab (in a nutshell, it is a hybrid of a van and a jeepney) or a pair of motorcycles. After much haggling, we finally decided on the multi-cab, which went for Php1,500.00 (~US$35.00) for 8hrs, a hundred pesos more expensive than the motorcycles but a lot more safe and convenient.
It was already almost noon when left the port, so we asked our guide, Mang Gerry, to make a stop at an inexpensive place to eat. Somewhere in Guinsilaban or Mahinog, we got off to have lunch at a carinderia. We had a whole barbecued chicken, two different fish viands, and a vegetable dish, all for P250.00 (~US$6.00).
Our first stop was Katibawasan Falls. After Tinago and Maria Cristina in Iligan, Katibawasan was not much of a stunner. Then, considering that we are from Bicol and have grown up with regular visits to different spring resorts, Ardent Hot Spring did not make the grandest impression. Though finding out that the several pools have varying temperatures was quite interesting, it also had a more appealing landscape than the spring resorts in our province. The third attraction was the Stations of the Cross, which is more than an hour hike up Mt. Vulcan on a paved staircase so, obviously, we skipped it.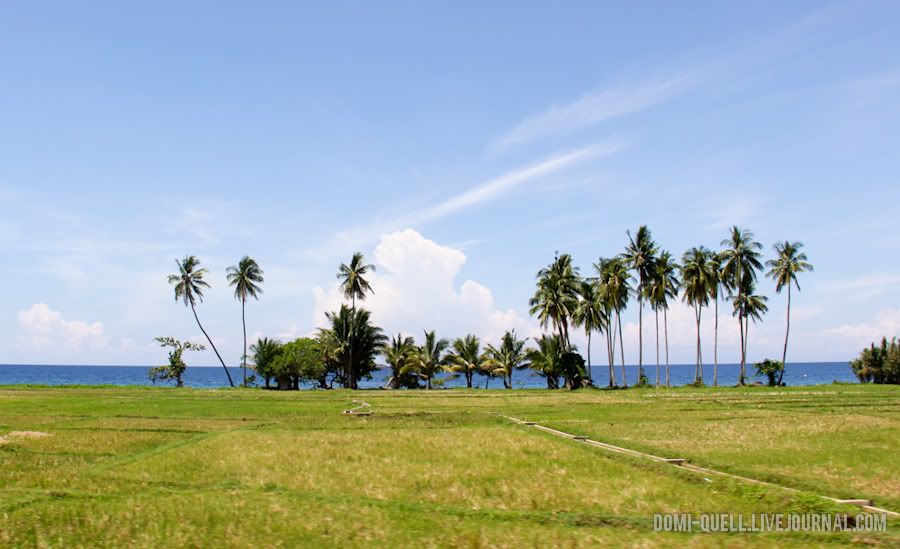 The two most intriguing sites we visited that day were the Sunken Cemetery and Guiob Church Ruins. The Sunken Cemetery became part of the Bohol Sea when Mt. Vulcan erupted in the 1870's, a large cross was erected as a marker of the burial ground that was swallowed by the water. It is a place for the deceased, and this obvious fact adds to the enchantment of this uncanny attraction.
The Guiob Church Ruins is an ancient site from the 16th century. Similar to the Sunken Cemetery, the church was also destroyed by Mt. Vulcan. But due to the sturdiness of the coral stones that make up its walls, the ruins continue to fascinate tourists up to this day. And it was in the grassy yard of the old church that we decided to reminisce our childhood and play
luksong-tinik
.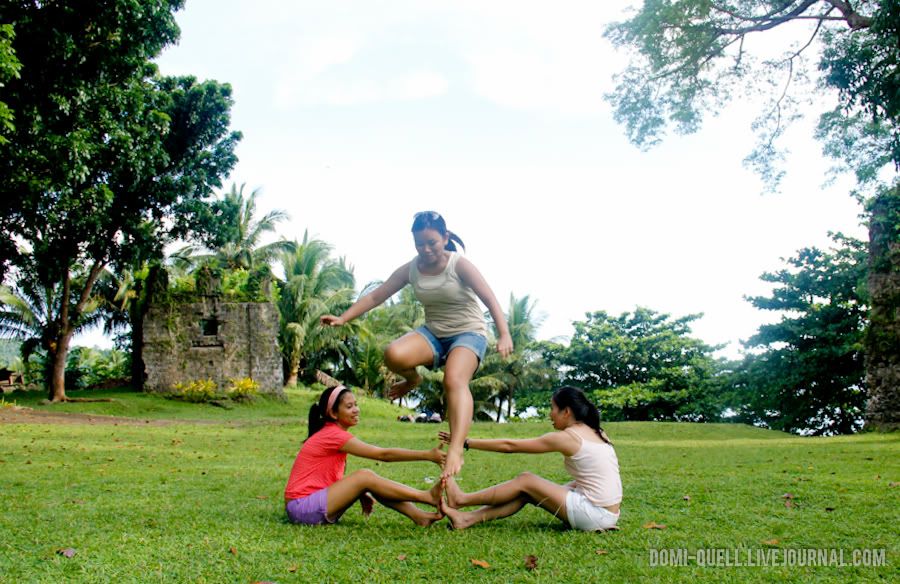 On our way out, we ran into two fellow travelers whom we rafted with in CDO. Coincidentally, we also saw them in both waterfalls in Iligan the previous day. We ended up staying at the same inexpensive inn as they were that night thanks to their suggestion; Pabua's in Mambajao was P400.00 cheaper than the first accommodation we looked into, it came for P900.00 (~US$21.00), that's as cheap as it can get for a room big enough for 4 people . We made a final stop at Sto. Niño Cold Spring in Catarman. It is a vast pool of fresh, clear, and ice cold spring water that gets as deep as 8ft. Perfect to take a dip in after touring around the island for several hot hours.
We decided to have dinner at Luna Ristorante, a fancy Italian restaurant a few blocks from Pabua's. It was clearly out of the budget but we wanted to have a good time. We ordered a garden salad with tuna, a spicy pizza, and penne al fume. The food was surprisingly good for a place so far away from the main island. The servers were as friendly as a Filipino can get, but they were just a little too slow. In fact, too slow that I didn't get my glass of water until I almost finished my meal. My frozen mango margarita was not served with smoothly blended ice, but Dianne's piña colada came out just right.
The next morning, we woke up before dawn as we had scheduled a boat to take us to White Island at 5am. The morning air was still and somewhat chilly, but the sky was clear and it was looking like a perfect day to visit the beach. The shore was only behind the houses across Pabua's. I took several photos of the rising sun before we went into the boat.
A few minutes after we left the shore, it started to drizzle and the next thing we knew, giant drops of rain were pouring from the sky! I realized I was not carrying a waterproof case for my dSLR camera and phone. The wind had become colder and stronger. The boat's engine suddenly died and, for a few minutes, we were stranded in what looked like the the middle of nowhere. We could see the faintest white sand which told us we were getting close to our destination, but I was terrified. My gadgets could go berserk and our boat could capsize. Sure, we were wearing life vests but what of the unknown water and unending rain?! The engine growled back to life, the boatman told us not to be scared but I'm pretty sure what he really wanted to say then was
shut the hell up!
Haha. xD While Begs and Jocelle were as calm as sloths in a tree, Dianne and I were already panicking and were wanting to turn back. By the time we reached the island, or what could be seen of it, the sky had turned darker. The horizon was a heavy gray confirming that the rain was not going to stop anytime soon. We turned back without even leaving the boat. As we made our way back through what felt like a storm, all I could honestly think of was the feeling of dry land under my feet.
Thinking about it now, I feel stupid and weak. What was I so worried about? Drowning? Getting bitten by a shark? My friends and I never seeing each other again? Never seeing my dog and nieces again? My camera? All these silly things looping in my head, but I failed to come up with one favorable thought. That is, to turn that growing fear into excitement. So do remind me that the next time I find myself in a stormy sea, I have to at least try to shut up and enjoy the ride! XD
After showering and changing, we went back to Luna for some breakfast. Jocelle had a tomato and mozzarella omelet, while the rest of us had corned beef, eggs, and rice.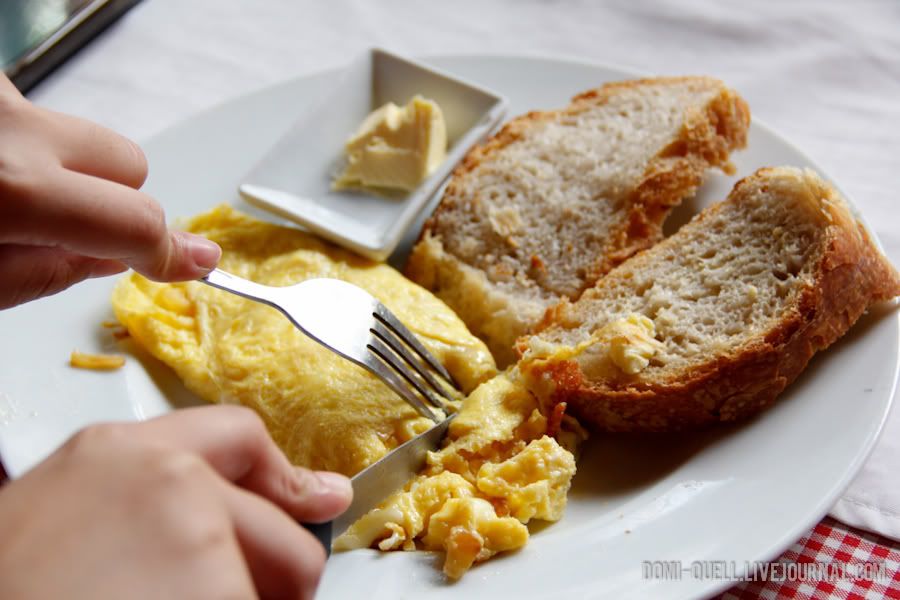 The rain started to heavily pour again. It was only 9am and we were not expecting Mang Gerry to pick us up until 9.30am, so we decided to wait. We were the only people in the restaurant except for an Italian man whom we assumed to be the owner. And as if proving itself, the weather is still the most classic conversation starter. We forgot to ask his name but found out that he has been living in the Philippines before we were even born. As per Jocelle's request, he translated and spoke some Italian for us. The downpour did not stop so we found ourselves running back to Pabua's. We did not get to leave the island until noon. And as our bus drove past the dense Mindanao forests, I found myself agreeing: "Le Filippine sono bello un paese," the Italian said. The Philippines is a beautiful country.
(And if that Italian sentence is not right, please feel free to correct me. Haha. XD I am simply relying on memory and Google translate. XDDD)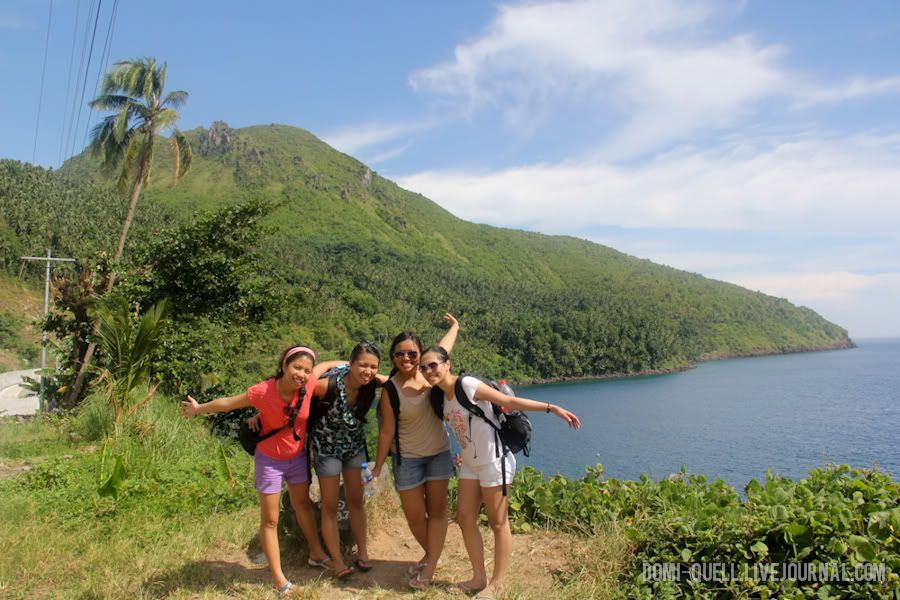 P.S. Yes, as you have already probably predicted, we were late for our flight back to Manila. Luckily, the plane was an hour delayed.
Today's lesson:
Just enjoy the freaking ride.
Mood:
awake