This is the second entry about the recent trip I made to Mindanao. To read the first part, click
here
.
On our second day, we took the bus to Iligan City. The road from Cagayan de Oro boasts an array of plantations, which is evidence of the region's thriving economy. At around 1pm, after visiting Ate Yam's family, we drove to Maria Cristina Falls, which are, by far, the most enormous falls I have ever seen in my life. Water droplets peppered our faces from more than 100m away. The falls themselves are more than 300m high; it was an incredible sight, and I will let the view speak for itself: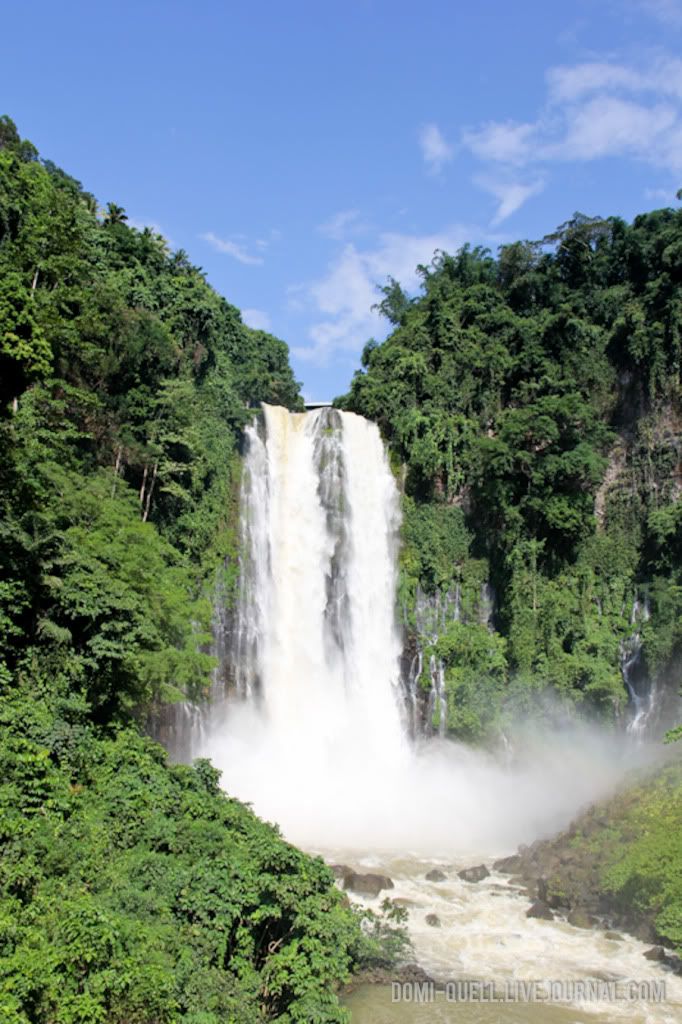 Our next stop was Tinago Falls. The word
tinago
translates to
hidden
in English, which it literally is. It is more or less 30 minutes from Iligan City and is deep in the forests of Lanao del Norte. We had to go down a stone staircase consisting of almost 500 steps. But what we saw at the end of the winding stairs was worth every sigh of exhaustion. A huge and proud wall of rocks, half of it covered with vegetation, the lower half crying with the clearest of waters. And to add some more to my amazement, a rainbow greeted us with colors that gleamed against the black rocks and white flowing water. The scene could not have been more beautiful.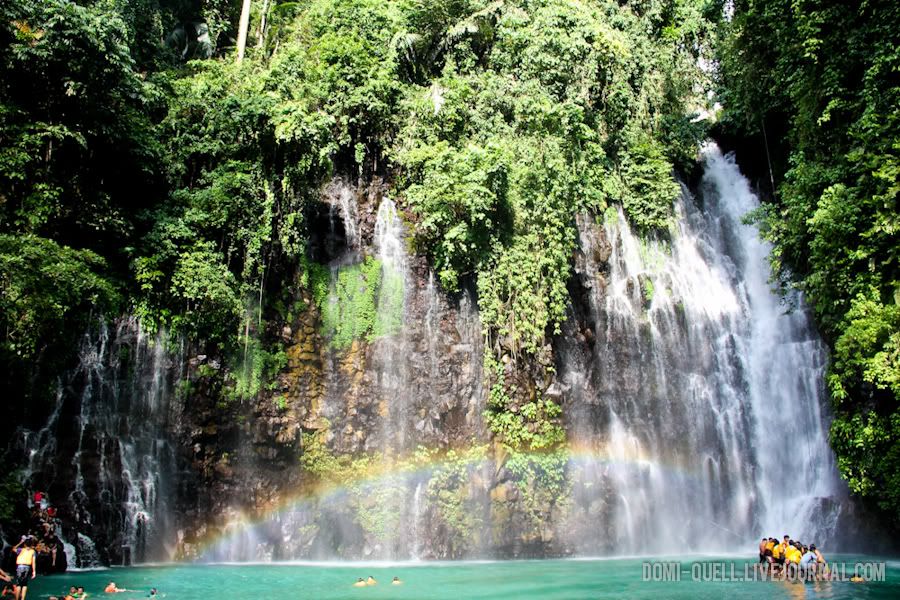 Five minutes in the cold turquoise water and I already thought of staying there forever. Basically nobody was allowed to go in without a life vest unless, of course, you have fins or could swim like a dolphin; the basin is more than 60ft deep. :| For P10.00 (23 cents) each, a bamboo raft was available to transport tourists to the surge of cascading water. It was something I had never experienced before, we started turning red from the pounding of the water and, boy, did it hurt but it was exhilarating! We could barely open our eyes nor tilt our head up. After less than a minute under the stream, the guide told us to jump off the raft and explore-- so we did.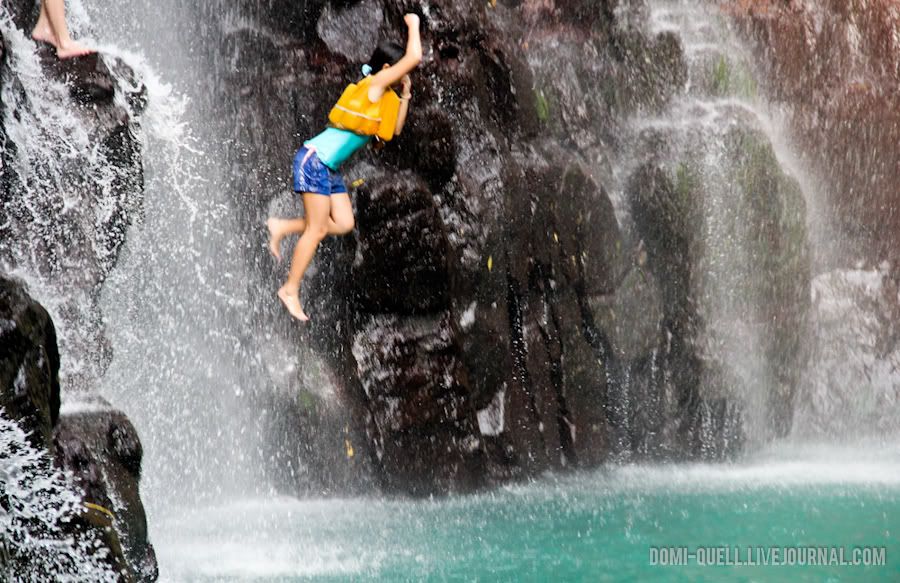 We originally planned to visit three more resorts that day but since it was already after 3pm, we decided against it. Instead, we spent the rest of the afternoon jumping off from the walls of Tinago and screaming, "LIFE IS GOOD!" and "I LOVE MY LIFE!" The rocks were not as slippery as they looked but we did have to watch every step we took since the crags were narrow and one wrong move could have sent us tumbling like Jack and Jill down a rugged hill.
Our guides took us to every precipice we could possibly climb. Behind the gurgling water and into hidden caves and pools. At one point, we went under a rock, which was 10ft up the wall, it was dark and cramped and you could see and hear nothing outside except for the rush of water, only our heads were visible in that little space. It was the first time I actually felt claustrophobic in my life.
And what came to me when I decided to climb more than 30ft, I do not remember. Maybe I was thinking,
I might never have the chance to do this again.
So I let the guides tell me where to put my feet and which rocks to grab. I had no safety harness and could have easily slipped or fallen unconscious so I avoided looking down. It was a scary way up and when I reached the jumping point, my first thought was,
WHAT THE F-CK AM I DOING UP HERE?!
It took me a couple of minutes to muster all the courage I had in my being. My knees turned weak and I began to literally shake. But it was safer to drop than to climb back down, so I bent my knees, pinched my nose, and jumped butt first into the water. Unlike our earlier plunges, the impact was not immediate, I was given a minute to anticipate my fall and think about my life. :|
But the best part could have only been when our guide told us to look up after our first jump. And what I saw then could only be called bliss. For one precious moment, life was perfect. The sky was a soft blue, the vines were a bright green, the water was white and it fell from the river without inhibitions, and as the tiny beads gently rained down our faces, I thought to myself,
this is how life is supposed to be.
Next entry,
Camiguin Island
.
Today's lesson:
Jump.
Update:
This entry has been published on IliganLocal.com.
Click here to view the article
.
Mood:
bouncy