Where to start? I have no idea.
My mind refuses to move on.
Yes, yes. And I don't deny it. I am a verrry emotional person. Especially, when I know there's something behind to look back at. And I wish everything in front of me would just be a little bit less uncertain.
I'm concerned about what I'm going to do from now. I'm anxious to find out what Life has in store for me. But I'm scared that I'd be too apathetic and careless again and once more, history will repeat itself, and I'll lose control of my story.
I have so much already. I can say
been there, done that
about so many things so I don't understand why I'm so insecure.
Oh, this is one of those phases in my life that I need a shrink.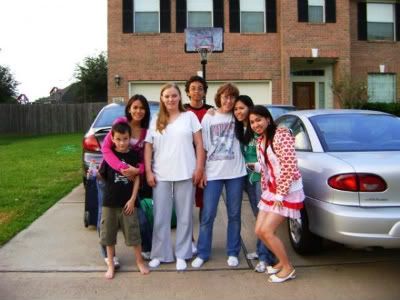 Iris, Collin, Cassie, Richard, Nora, Me, Maricar
Background: The Box House.:)



Aida, Iris, Kristel, Me
Who would've wanted to leave?
I did enjoy my stay there. Well, yes, it was boring. We followed a routine. Everyday was the same. We wake up, eat breakfast, ride the same car to work, open the restaurant, work for more than 5 hours, go home, eat dinner, and sleep. But what made everything worthwhile were the things in between. Cassie's stories during the rides, the hugs for and from Aida, the hellos from Kristel, the satisfied smiles of the customers, the holas from Victor, Nora's jokes, Tammy's lessons, and a lot more.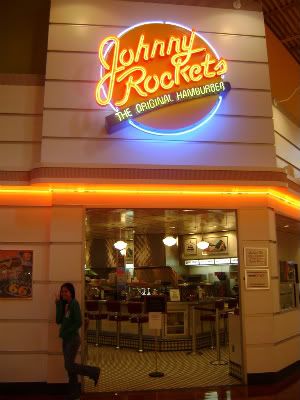 I learned so much from the people I worked with that I would have never learned from lectures.
I miss Johnny Rockets and The Box House. A lot. :(
We never thought we'd be missed. It didn't really occur to me that people would cry when we leave. But they did. xD I wasn't very happy when we left. Dang, I was crying. And I was crying in front of other people. It was so much I couldn't wait until I had the chance to be by myself and pour my heart out. And would you believe they were happy when we missed our flight? O_O Haha! But, it makes me feel good - the thought that they were sad to see us go...because it made me realize that, somehow, we did something right. That they were glad we stayed and worked with them.
"You were the best employees Johnny Rockets has ever had. We wish we get more associates like you." - Jason, when he said goodbye to us at the airport
"Don't leave! I need you!" - Kristel, I don't remember how many times she said it xD
"Stay. You can stay in my house for free." - Aida
"You're my best friend, Joan!" - Aida, while cooking xD
"Oh, you can marry my son then you can stay." - Aida
(Yes, Aida is very crazy.)
"Welcome back!" - Cassie, when we missed our flight
"Joanna. I'm going to miss you, Joanna." - Victor
"I'm going to miss you, guys. You worked very hard." - Tammy
"Good? You weren't good. You were great!" - Juanita
"You were the best J1 students we've had." - Gilbert
LOL. Yeah.
Mayabang kami.
xD You know what? I would've gladly stayed. Aside from the fact that I loved the people there, I was earning good money. Very good money that at a point the thought of going back to school made me laugh. But Christ! I believe I know better.
Sana ganun na lang kadaling bumalik. Yung tipong, "Manong pabili po ng ticket." Sasakay ka lang ng bus tapos andun ka na." Pero kasi hindi.
So here I am. What to do? Joan, you're 20 years old. You're young. You can enroll next semester. You're in the best school in the country. You've gone through so many things in life. You're finally enjoying what you decided to do in life. What the fcuk is wrong with you?
Nothing. Start all over again. Goddamnit.
Yo necesidad...
Mood:
nostalgic
Music: Timor - Shakira